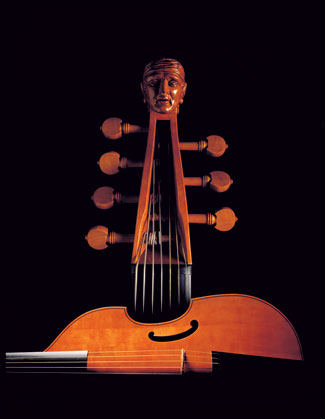 Because these are period instruments they have to be historically correct in their setup, and I tend to use existing models a lot more – but I can't help it, I am slipping towards designing my own models now too!
What ultimately governs the making of an instrument are the needs and wishes of musicians, but in terms of how an instrument looks and will be made, it is down to the construction method. We as 21st century makers can learn a tremendous amount from old instruments, and during my career I have been fortunate to examine very closely a series of exceptional viols. Because some of these instruments are virtually unaltered I was able to 'get under the skin' of the original makers and understand exactly how these instruments were made.
In the violin family you have fairly set sizes for instruments. In the viola da gamba family however, there is more and more historical evidence that there are very few viols by the same maker which are the same size - but I don't make a theory out of just ideas! The step to take from this is that these instruments could have been made to measure for the musician or for the music.
To me the viola da gamba is a beautiful instrument; you are working with a very strict instrument in terms of its framework, but because of the difference in sizing there is also incredible freedom.