Carolyn Anderson-Surrick
"I still remember the first time I sat down to play Marc's beautiful viol. I was in New York at Bill Monical's and he said rather nonchalantly, "Try this. I think you might like the sound of this instrument."
I was not looking for a new viol. I was not even thinking about buying an instrument that day, but when I drew the bow across the string I was stunned. The sound was beautiful. Warm, focused, sweet and rich - I left without the instrument but was haunted by it.
A few weeks later I bought it. It has traveled across this country more times than I can count. I have played in recital halls that seat two hundred and concert halls that seat two thousand. It's gone from hot, dry LA to snowy Minnesota and it's incredibly stable. It's perfect on stage, in the recording studio, and most importantly, it still thrills me."
Carolyn Anderson-Surrick, Viola Gamba, United States
www.egmusic.com
Lowri Blake
"Marc has looked after my instruments throughout my career, and has made a fine copy of my Francesco Ruggeri cello. Marc does the best bow rehair too; I wouldn't go to anyone else!"
Lowri Blake, Cellist , Teacher & Broadcaster, France
www.lowrirecords.com
Liam Byrne
"I first tried Marc's instruments at the RCM viol festival in 2009 and was struck by their beautiful, rich and singing tone; there was something very special and almost human in the way each instrument sounded. Marc's copies all had distinct elements of the original instruments' characters (which, on this occasion, one had the luxury of comparing first hand). I was so impressed by the craftsmanship and poetry in his viols that I asked Marc to do some work on my own instrument. A few weeks later I had the most beautiful new bridge and my instrument sounded heaps better than it ever had before. The sound is now more open, warm and complex and it has been a welcome challenge to my playing, keeping up with its new and wondrous voice."
Liam Byrne, Viola da Gamba
www.liambyrne.net
Lennox Mackenzie
"I first met Marc some ten years ago in his studio workshop in Hackney, London. It's essential for we professional string players to know a luthier that we trust completely with our precious instruments. Colleagues had recommended Marc to me and I was immediately impressed by his impeccable workmanship and attentive care with my violins and bows. He performed a very delicate restoration to one of my violins and some years later I still look at the result with wonder and admiration. I felt very secure and at ease to have found someone with whom I had total confidence in servicing my instruments to my wishes. It was therefore extremely disappointing to learn he was relocating to Ludlow! I need not have worried. His postal bow service for rehairs and repairs work extremely well and his regular visits to London make it easy to meet up in order to to hand over and pick up my violins. A recent visit to his workshop in Ludlow reminded me of the high quality of his violin-making as well as his warm hospitality."
Lennox Mackenzie, Sub-Leader, London Symphony Orchestra.
www.lso.co.uk
Andrew Manze
Marc has looked after my violins and bows for as long as I can remember. His craftsmanship is superb but what I value just as much is his 'feel' for what an instrument needs, both when something has to be done or, just as important, when something should be left untouched. Over the years, he had such a clear idea of what I valued in an instrument and we had so many fascinating conversations about them, that it was a natural step to ask him to make one for me. We quickly settled on a model and an approach, a typically Soubeyran combination of idealism about how a baroque violin should be made and realism about the (over-) large venues it would be played in, and he then kept me in touch with the whole process, from choice of wood through the many stages of construction, either in person or with photographs. (Marc is as skilful a psychologist as he is luthier when it comes to dealing with players!) The end result is both visually and sonically beautiful. It has a viola-warm low register, is open and clean-speaking in the middle register and feels fresh and even a bit wild at top. I treasure it.
Andrew Manze, Violinist and Conductor
intermusica.co.uk
Erica Nockalls
"Having been playing the violin for nearly 20 years now, I've had more than a few bow rehairs and violin repairs, I'm just sorry it's taken me this long to find Marc Soubeyran! Marc is my most trusted bow rehairer, providing an unfluctuating, first-rate service…
…When either repairing or refining an instrument, Marc really listens to the individual's needs and takes into consideration any unique requirements a player may have. I now have a Marc Soubeyran bridge and sound post. After fitting, Marc patiently worked with me until I was 100% satisfied with my violin and it's huge new sound. Marc Soubeyran really is the best violin doctor in town."
Erica Nockalls, Violinist
www.ericanockalls.com
www.thewonderstuff.com
Pete Oxley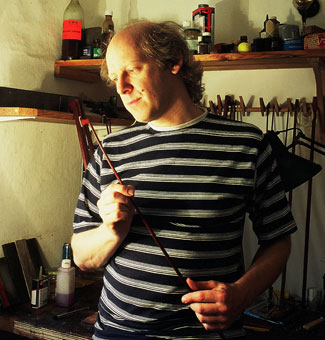 I have known Marc Soubeyran for 15 years and in that time have always been impressed by his work. The instruments that he makes always strike me as being particularly vibrant and characterful. This impression is clearly born out by the musicians who have bought – and love - Marc's instruments. In addition to his instrument making, Marc has a deep interest in bows; this is put to use in producing some of the finest rehairs I have seen!
Pete Oxley, Guitarist, Jazz Composer & Bow Maker
www.peteoxley.com
Jack Pepper
"I have been so pleased with my cello since I bought it in 2006 from Marc. The tone is incomparable due to the rich, powerful sounds given by the four strings. I bought the cello on recommendation from my teacher and he will often spend long periods of lessons playing my cello as "demonstrations" because he enjoys so much what the cello can create. The cello is also incredibly aesthetically pleasing due to the care taken whilst it was hand crafted. The choices of different wood, and shapes used (particularly in the tuning pegs) give it a look which is unique within an orchestra. Over the years, it has been brilliant to get to know the cello as well as use it in many different settings. I used the cello during my Grade 8 exam, during National Music for Youth finals as well as many functions such as weddings and birthday parties which I have played at with quartets. Recently I played it within the Shropshire Cello Octet for a royal opening of an outdoor pursuit centre. I'm extremely excited about continuing my study of the cello with this instrument, and I am currently working towards a performance diploma (DipABRSM). "
Jack Pepper, Cellist, Shropshire
Rhydian Shaxson
"I first met Marc in 1987, during his days at Withers (with Kessler) in London. I had just bought a nice Kennedy cello which was in need of repair.
Marc took it on and did a fine restoration. This set us on our way, just proir to him opening his own workshop in Stoke Newington.
I have employed Marc many times over the years for all major and minor work to my instruments and bows. I found him to be a good listener who takes the time to see the player's perspective and tackle solutions to problems from all angles. Obsession with one's instrument can often lead to neurosis (as many a player can attest). Marc is a good judge as to whether a problem may lie as much in the player's mind, rather than within the body of the instrument. This was always thoroughly annoying when proved correct !
Above all he is a fine craftsman with very high standards.
To that effect, in 1995 ,I ordered Marc to make me a 'cello. Being an avid fly-fisherman myself, Marc (at my request) arranged for a trout to be painted on the back of the instrument. It is a beautiful cello (n° 53) with a fine core sound which I often used for overseas touring, being a much stronger instrument than my Kennedy.
My touring days over, it now has a new home, somewhere in Shropshire I believe. This could be the one that got away..."
Rhydian Shaxson, Cellist, The Royal Opera House
www.roh.org.uk
Karen Stephenson
I have known Marc for many years, he did much work on my Paul Claudot cello when he worked in London.
Marc recently worked on my Thomas Kennedy cello in Ludlow - sorting the setup - putting on a new bridge, fingerboard and soundpost.
For me he has an unmatched innate ability to hear when the instrument is really 'ringing' and working properly.
The cello has never sounded better, Marc is so thorough and patient - I wouldn't hesitate to recommend him to do major work on any stringed instrument.
Karen Stephenson, No. 2 Cello, Philharmonia Orchestra.
www.philharmonia.co.uk
Elizabeth Wallfisch
"Marc is an outstanding craftsman- his work is impeccable, beautiful. Added to this is his great humour and friendship!"
Elizabeth Wallfisch, Period Violinist
www.elizabethwallfisch.com
www.wallfischband.com
Krzysztof Smietana
"In the past 30 years I have always send my violin for check up or
repairs to Marc. His work has been always on a highest level and
showed great craftsmanship and understanding of a string instrument.
In this time I have also observed his growth as a master violin maker.
His instruments developed greatly in both aesthetic qualities and tone
quality. In my opinion he is one of the most interesting luthiers
around."
Krzysztof Smietana
www.gsmd.ac.uk
Clients
Irvine Arditti, Lowri Blake, Tim Boulton, Jo Cole, Kim Dinitzen, Guildhall School of Music and Drama, Detlef Hahn, Tim Hugh, Robert Irvine, Steven Isserlis, Garfield Jackson, Graeme Jennings, Hilary Jones, Garth Knox, Henning Kraggerud, Richard Lester, Andrew Manze, Chi-chi Nwanoku, Mstislav Rostropovich, Royal Academy of Music, Royal College of Music, Royal Northern College of Music, Royal Scottish Academy of Music and Drama, Jane Ryan, Krysia Osostovicz, Rohan de Saram, Jan Schlapp, Krzysztof Smietana, Ursula Smith, Ralph de Souza, Elizabeth Wallfisch, Andrew Watkinson, Peter Worrall.