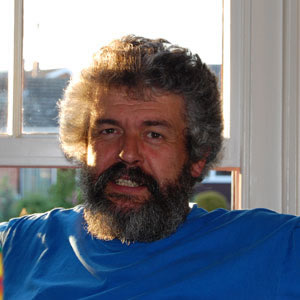 Marc Soubeyran
I was born in France and grew up in Lyon, where it's fair to say that my passion for music and musical instruments began. However, it was not until I served my apprenticeship at the Swiss School of Violin Making in Brienz under the tutorship of Hugo Auchli, that I truly began the development of my skills as an instrument maker.

I served my apprenticeship at the School between 1977 and 1981, and it was there that I met fellow student Hans-Ruedi Hösli – he and I became firm friends and he has since gone on to take over the directorship of the School. In some ways you could say that he and I have followed completely different paths in our careers on the face of it – but throughout our working lives there have been so many parallels in terms of the ideas that we share and the way that we work, that it's clear that our teacher Hugo Auchli was an exceptional mentor and inspiration for us both.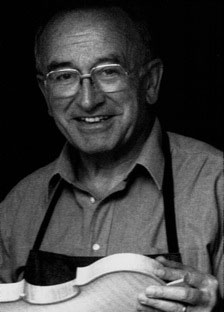 Hugo Auchli
At the time of studying under his direction I'm very well aware that Auchli's perfectionism and drive were occasional irritations to his students, myself absolutely included! However, I also now appreciate what a great teacher Auchli was, and how important he has been throughout my life. I consider him to be my 'professional father,' and I know that he thought of his students as his 'children' too.
Even now, with over thirty years of professional experience behind me, Auchli is still 'up there' for me – respected, idolised even – and certainly greatly appreciated. He gave me an extraordinary grounding in the work that I now do, and he gave it with infinite love, humility and humanity. Throughout his working life he was a grafter – a selfless, giving and generous man who by enabling his students has enjoyed great success by proxy. Just like the most selfless of fathers.

Towards the end of my apprenticeship in Brienz the director of the school was visited by his friend Dietrich Kessler; in passing one day the director told us that Kessler had lost an employee recently and I immediately put two and two together and went to see Dietrich Kessler at the director's home: I told him that I knew he was looking for a new instrument maker to work under his direction at Edward Withers in London, and that I would like to put myself forward for the job.
I know I was incredibly lucky to go from an apprenticeship served with the great master Hugo Auchli in Switzerland to work for the equally great master Dietrich Kessler in London.
In terms of what I learned from the two great men, I can say that from Auchli I learned the absolute foundations of my profession – I learned how to hold a piece of wood, how to hold a tool, how to work. From this fundamental grounding in instrument making I know I can rely on my tools, I know exactly how to do my work – and that grounding came from my apprenticeship.
From Dietrich Kessler on the other hand I learned about instruments and about the fine details of my profession. Kessler was extremely well known as someone who could adjust and set up instruments beautifully, and his skills and passion rubbed off on me because to this day, correctly setting up instruments is one of my pet loves and it is where I base my reputation. I also learned a whole language from Kessler – not just metaphorically, but literally too.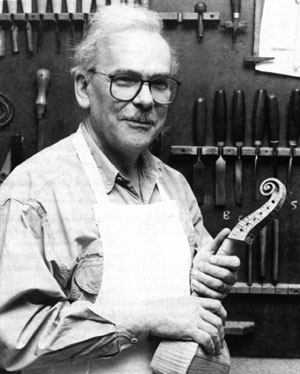 Dietrich Kessler
When I began working for Kessler at Edward Withers in London in 1981 I greatly respected him and I looked up to him. When I eventually stopped working for him in 1987 I'm pleased to say that our relationship evolved and we became more equal: we became friends and professional colleagues, with Kessler also calling on me for advice occasionally.
In terms of the time spent at Edward Withers, it was very hard and exciting work in an exceptionally busy West End shop where the atmosphere buzzed with ideas and creativity. There was a continuous turn around of instruments so I gained great expertise from the work that I did.
I also learned how to communicate and understand musicians too. I gained a great understanding of their requirements, and I also learned how to get the information one needs from them in order to be able to help. There was a fantastic exchange of ideas in the shop; this is how I was able to build up such a deep knowledge. What's more, Kessler was employing a bow maker at the time so I learned a lot about bows, which for many violin makers is unusual. I'm aware that I know more about bows than many in my profession, and that for a musician my knowledge in this area is important. I realised this at the time and so I worked in the evenings to make a bow and to learn more about the overall skills involved in bow making. Today this knowledge is particularly relevant for my bow repair services for example. I don't just re-hair a bow, I know how it should work for the musician.
Critically for me, during my time under Kessler's direction I concentrated firmly on the development of historically accurate instrument making. My driving passion was to work closely with individual musicians to make or repair an instrument specifically for the music they play. I have always felt that to develop an instrument one has to work with a clear historical conscience, and the fact that I joined Kessler shortly after he had acquired the Richard Meares' bass viol that proved a construction method our industry had previously only theorised about, only fuelled my passion further.

In 1987 I felt confident in my skills and talents to branch out alone, and from then until now I have continued to enhance my expertise, develop my business and I have remained absolutely true to my vocation - which I see as that of 'toolmaker' for musicians.

In 1995 I was a founder member of the British Violin Making Association (BVMA), holding the post of chairman for 6 years; and I continue my active involvement with the Association to this day. It was an Association that was a long time in the discussion phase! To me it was amazing that Britain was the only country in Europe without an Association – so I, together with professional colleagues, began to enjoy social meetings where the idea was to bring an instrument along with some wine and food, and to have a good time talking about anything related to our work.
After a few social sessions the more formal BVMA was born! However, critically because the association began with friends sharing ideas and knowledge this remains the fundamental foundation for the Association to this day, i.e., the Association operates on a completely open basis.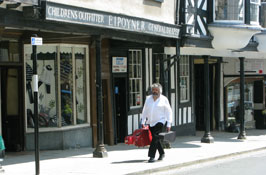 Marc in Ludlow
After just four years following the BVMA's foundation we mounted a major retrospective exhibition of British instruments, and the book that came from that exhibition is still regarded as the reference book for our profession. All of this came from the pooling of ideas and from friends being willing to share – so the overall result is that the BVMA has helped the trade in this country to be much more open and for the bar, in terms of the standards we all work to, to be raised.
In 2001 I moved my business from London to Ludlow in Shropshire, fulfilling a dream to live with my family in this beautiful part of rural England. I continue to provide instrument making services to a broad and loyal client base, working closely with each individual towards the creation of their unique, handmade 'tool.' Today the majority of my clients come to me by referral, and I like to let my work do the talking. I make, repair and set up instruments and bows, I work with professional and amateur musicians alike and I make and work with modern and period instruments.